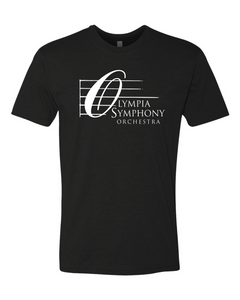 Olympia Symphony Logo Shirt
All profits from the sale of this shirt go directly to the Olympia Symphony Orchestra.
Support the Olympia Symphony and wear our logo with pride.
Shirts are made from 100% cotton.
All shirts are made-to-order. Please allow 7-10 days for your item to ship. Free shipping on these items!
The size chart below is listed in inches.
Perfecto!
AltoClef gifts is the perfect gift store to get down with your nerdy self.
Fantastic!
The vinyl is crisp and cute—and the fabric is soft. The tee is a perfect fit. Lisa was so helpful! She really cares about her customers!