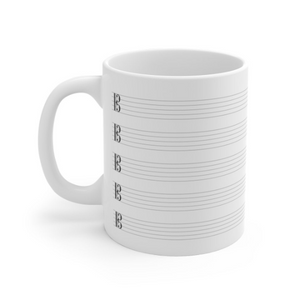 Custom Coffee Mug
Put 4 lines of your favorite sheet music on a coffee mug! Music must be in the public domain or your own composition that you have the rights to use.

OR - have your own design or custom request put on a mug. Let's create a personalized mug as memorabilia. Contact me for bulk pricing.

Mugs are printed after you order. Please allow up to a week for shipping.

Great present to other musician
I asked my student teacher to choose some concertos he loved so I could ask the person to put them on a mug. I gave the person the list and she chose 2, one of them she already had. So she included some stuff cuz I paid for the custom one. Super flexible and shipping was so fast! 10:10 recommend