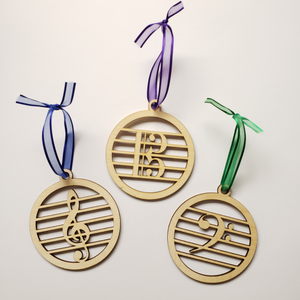 Wood Clef Ornaments
Add musical decorations to your Christmas tree this year with clef ornaments. Choose from treble clef, alto clef, and bass clef, or get the whole collection!
Laser cut from birch plywood and finished with polyurethane, each ornament is 3.75 inches across and comes with a colorful ribbon loop. The ribbons for each clef match the colors of the Suzuki books - violin is blue, viola is purple, and cello is green!
Ornaments are made after you order and may take up to a week to get in the mail to you.
My favorites
These are my favorites. I have a number of them as Christmas gifts last year and this year bought a set for our own tree. Beautiful and they smell good too.