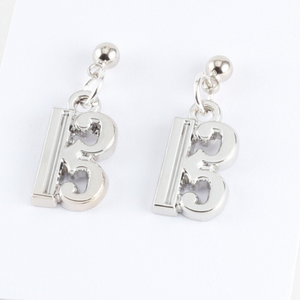 Alto Clef Charm Earrings
Alto clef/tenor clef/c clef earrings!
Charms are 1/2" tall.
Made with nickel-free posts.

Each pair of earrings is packaged in a gift box ready for gifting.

Choose from zinc alloy or silver plated charms.
Silver-plated charms may tarnish over time.
Just what I was looking for
I wear the earrings daily, they're very cute and comfortable! :)
Perfect Gift for my Viola Player
Adorable pair of earrings requested by my grandaughter for Christmas.
She won't be disappointed with these beauties!
I have been wearing my alto clef earrings to school everyday, and promoting the viola in my clothes as well. The students loved the pencils and feel special to be playing the viola.
I really appreciate that there is one store in the world that has alto clef 'stuff'. It is such a unknown instrument to many people and I'm glad I can encourage my students to learn about the alto clef and viola as a very important part of music. Thank you very much!