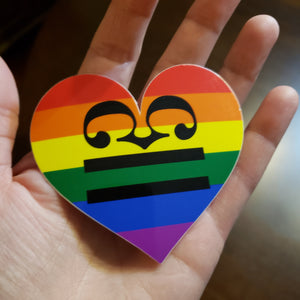 Rainbow Heart C Clef Equality Sticker
The top of the C Clef turned sideways looks like the top of a heart, and the two bar lines that make up the rest of the clef look like the equals sign. Add a rainbow background and the design is perfect for Pride Month.
The sticker design is based on the Human Rights Campaign logo (the blue square with the yellow equals sign), which is one of the most recognizable symbols of the lesbian, gay, bisexual, transgender and queer community. It has become synonymous with the fight for equal rights for LGBTQ Americans. Here at Alto Clef Gifts, we wanted to create this sticker so the LGBTQ community can see support year round.
The sticker is glossy and measures 3" across.
Weatherproof and waterproof, these stickers have a scratch-proof layer that also protects against fading. 
This sticker was designed by Holly Gutierrez, aka Holly_Viola.