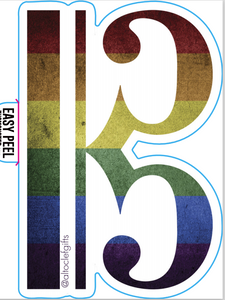 Rainbow C Clef Sticker
The rainbow c clef design is now on a sticker! Put it on your case or wherever you like to collect stickers. 
The sticker is glossy and measures 3" tall by 2.75" across. (The blue line shows the outline of the sticker - the edge of the sticker will be white.)
Weatherproof and waterproof, these stickers have a scratch-proof layer that also protects against fading. 
I lOVE this!!!!
I like how the colors are a darker tone making a cooler effect!